Work Process
Having had the chance to work on a variety of design projects, create educational programs and run startups, I decided to develop and teach a framework for innovation and problem solving named Empathy-Driven.
I use a streamlined version of the Empathy-Driven framework in my UX design process. Below is a 4-step adaptation for a recent iPhone and Apple Watch app project.
I start by answering five specific questions, the Five Ws, about the new project. Actually, I do this twice — once for the Problem and then the Solution.
This represents my high-level, macro view of the project. Answering the Five Ws helps with focus, structure, purpose and prioritization.
Problem Questions*
Who is experiencing the problem?
What is the specific problem?
When does the problem happen?
Where does the problem happen?
Why does the problem happen?
Solution Questions*
Who is needed to provide the solution?
What things are needed to provide the solution?
When will the solution be provided?
Where should the solution be provided?
Why is it necessary to provide the solution?
*Considerations
Prior lessons learned
User information
Subject matter experts
Business goals and objectives
Market conditions
These can require some thought. Based on project demands, the effort ranges from personal reflection and note review to user research and stakeholder interviews.

For this project, I focused on the history, users and business objectives of the two Energy Kit apps to come up with these answers.
Problem Answers
Who: the three personas (sample above)
What: too much/too little energy
When: multiple times of the day
Where: home, office, outdoors
Why: limited understanding, options
Solution Answers
Who: user, support group
What: FAR (food, activity, rest); TAT (type, amount, timing)
When: FAR-TAT plans
Where: location-based FAR-TAT
Why: resolution of issues, goals
STEP 2 — Data-Supported Personas
Next, I focus on both of the Who answers, ideally with the inclusion of multiple personas. I use personas to help establish and maintain understanding and empathy throughout the project.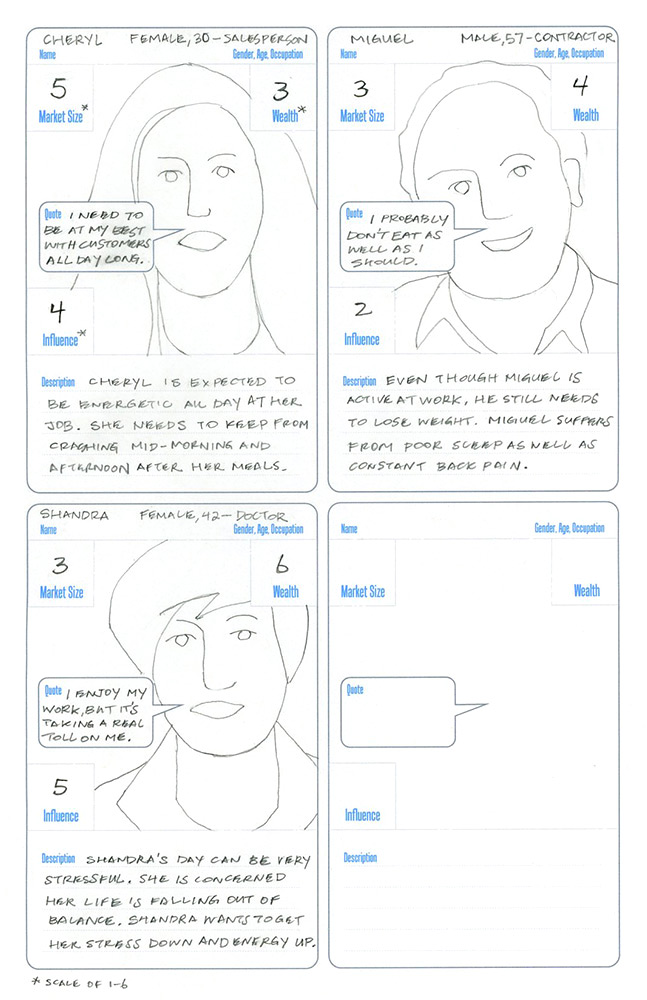 I create personas that
Are supported by data
Include personal goals, descriptions and attributes
Exist in an environment and scenario
Are realistic but not actually real
Are visual; I show them around to people
On smaller projects I'll scale down the list, but personas are almost always part of my work process.
For this project, I drew and detailed three persona cards (see enlargeable sample) with people facing various energy level problems.

Here are some personas I've made into laminated game cards and used in my UX projects and educational programs.
Plugging-in the Five Ws answers from above, I complete this simple yet effective template for a problem statement.
Problem Statement
(Who) in (Where) has (What/problem) that happens (When) because of (Why).
An example from this project:
Cheryl, a 30 year old salesperson in suburban Seattle, needs to keep her energy level from dropping drastically mid-morning and afternoon after eating meals.
STEP 3 — Conceptualization and Problem Solving
Then, I'll start using my sketchbook to explore the problem and potential solutions at a conceptual level, continuing until I've conceived, fleshed-out and evaluated a good number of options.

My favorite sketching tools are 5″x8″ Moleskine squared notebooks with Rotring 600 0.5 mm mechanical pencils. I'll also use Tombow ABT or Sakura Pigma Micron technical pens.
While sketching, I make sure to
Problem solve; explore variations, permutations and combinations
Initially define UX, UI and IA as well as any IxD
Be mindful of, but not entirely constrained by, technical limits
Try to get my thinking into a flow state
Not get married to any ideas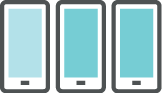 After that, I sketch the UI on my device-specific templates. Among other benefits, they make posting on walls for team review much easier than if I had stuck with my sketchbook.
When necessary, I'll use my phone's Evernote app to take pictures (easier than a scanner) and organize them into notes.
I'll also be sure to circle-back to my answers for the Five Ws for both the problem and solution — potentially making revisions based on new insight from this step.
For this step, I'll use a template that focuses on my solution statement. These fill-in answers must come from the perspective of the solution, not the problem.
Solution Statement
(Who) will use (What) at time of (When) at place of (Where) in order to (Why).
An example from this project:
Cheryl will use Energy Kit's recommendations during her days at work to help keep energy levels up so she can best serve customers.
Interestingly, in this case, the persona would own ultimate responsibility for the solution, empowering her through a more sustainable fix.
STEP 4 — Prototyping
Though I've worked with Photoshop for 15+ years, Sketch 3 has become, hands-down, my go-to tool (replacing past favorites Axure, Justinmind and Keynote) for high-fidelity work. Illustrator can still come in handy for detailed vectors, but I'll happily use Sketch to create almost all of my screen graphics.
At his point I'm zeroed in on my low-level, micro view of the project — controls, selected functionality, palettes, typography, actual copy and interactions.
I make sure to test prototypes as frequently as possible on actual devices (e.g. iPhone 6/6+, Apple Watch) with representative users — iterating as often/much as necessary.
I do this while continuing to keep in mind the technical limitations and developer handoff requirements.
While prototyping, I make sure to
Refine previously defined UX, UI and IA as well as any IxD
Implement elements of the brand identity
Usability test with representative users and selected stakeholders
Annotate clearly and succinctly using consistent terms
Document my lessons learned
As for other tools, I keep the list reasonably short. Current favorites for sharing prototypes are InVision and Marvel. For handoffs from Sketch to developers, I get things going in Xcode or use Zeplin. If needed, I animate interactions in Tumult Hype or sometimes an Adobe application (e.g. After Effects, Edge Animate).
I'll keep everything organized in Evernote — project specifications (minimal), schedules, meeting notes, action items and related Web clippings. Source files get archived on backup drives as well as on Dropbox and iCloud.

Validating Problem and Solution Statements
My prototypes and user testing are utilized to validate the problem and solution statements from above. Did I get my assumptions and hypotheses right? At best, they'd be mostly correct.
I've realized long ago that even properly-inferred, well-crafted prototypes won't survive user testing fully unscathed. So I don't try for pointless perfection when prototyping and instead focus on rapid iteration and meaningful lessons learned.